OUR GOAL is to help you be successful in your fitness journey!
Whether you want to improve your overall health, participate in sports conditioning during the off season, or simply take things to the next level, we have a personal training program for you.
THE BENEFITS of working with one of our Personal Trainers include:
· Accountability and motivation
· Awareness of correct lifting form
· Increased strength and conditioning
· Better flexibility and posture
· Enhanced sports performance
· Increased self-esteem

Ready to start? Here's how:
Review the training options (pricing chart below) and decide what's right for you.

Complete and return the New Personal Trainee Information sheet to our front desk. You can get this form from our Front Desk.

When our personal training team receives this, you will receive a phone call or text to schedule your free (30-min.) consultation. This is a time to talk with your trainer, review your paperwork, set goals, and complete a baseline fitness assessment.

See our Front Desk to select the training package you'd like to commit to. At this time, you'll be asked to make payment for your first month of training and schedule payments for future months. Payment must be made before any training takes place.

Then, schedule session days/times directly with your trainer.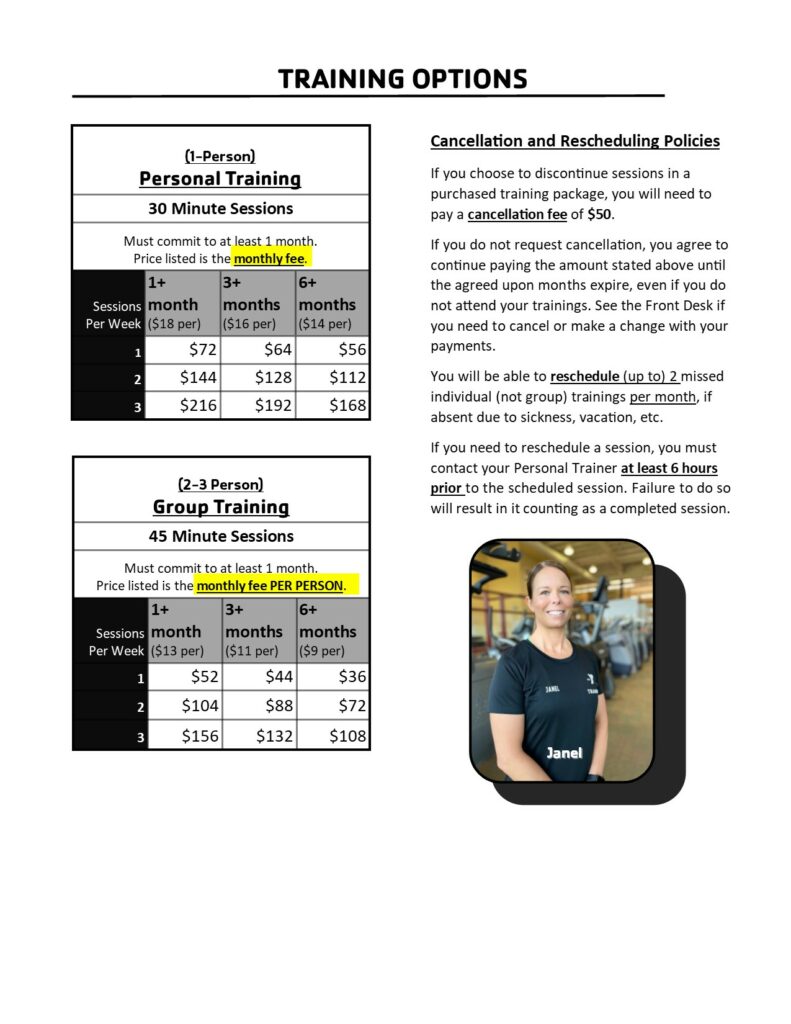 SMALL GROUP STRENGTH TRAINING CLASSES
Want more bang for your buck? Join a group strength class! You'll get the benefit of having a trainer to help you learn exercises, utilizing equipment in the weight room and the comradery of working out with others. See if any of the following class times work for you. If so, register anytime at our Front Desk.
Y-Strength
Mon/Wed/Fri
5:00am, 6:00am, 8:00am, or 8:30am
30 min. class held 3x per week
Monthly payment $35
Want to strength-train in the weight area, but aren't sure what exercises to do? In this class, a trainer will lead you through effective strength-building exercises, utilizing the equipment in the Wellness Area. Your trainer will be there to encourage you and help you with proper form, so you can become stronger.
WOW
Tues/Thurs 6:00am
30 min. class held 2x per week Monthly payment $25
W.O.W.= Women on Weights
Rotate through a variety of strength exercises during timed intervals, with the guidance of a trainer. Work at your level using free weights and machines to get a full body workout.
For any questions about personal training or group strength, please contact Jody Alsman, Wellness Director at [email protected].