4 Half Hour Swim Lessons
YMCA Members: $25
Non-Members: $50
Register by visiting/calling our YMCA Front Desk or CLICK HERE to register online.
Lesson days/times vary each month. See the flyer below for this month's offerings.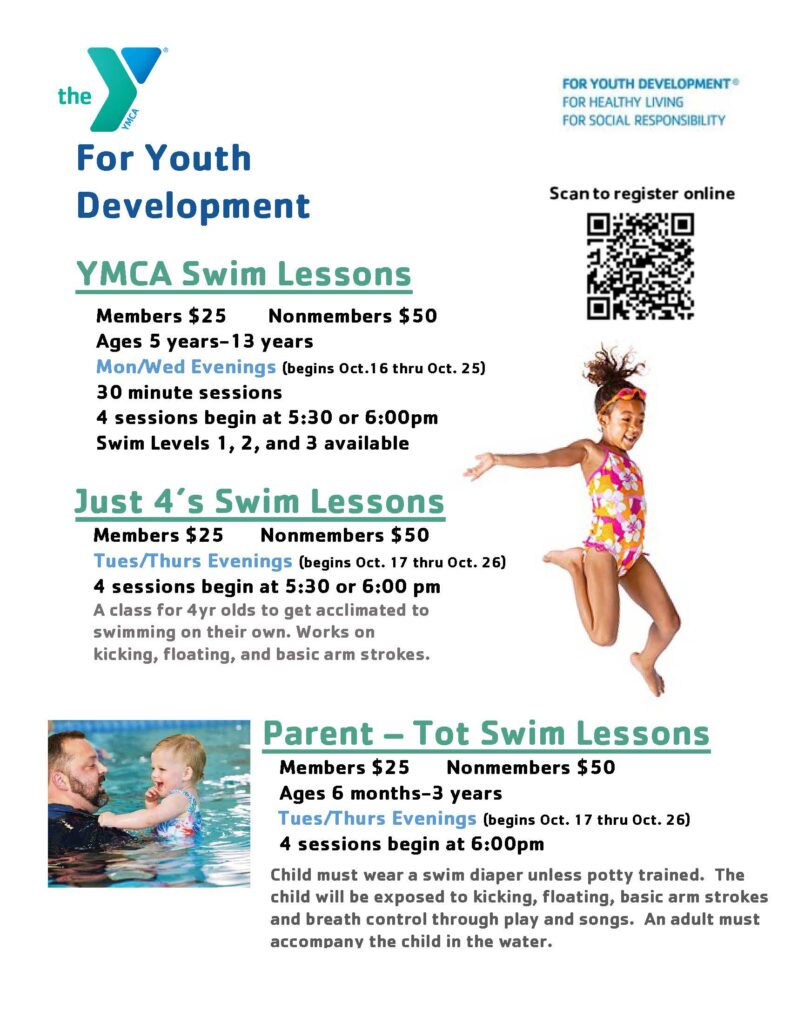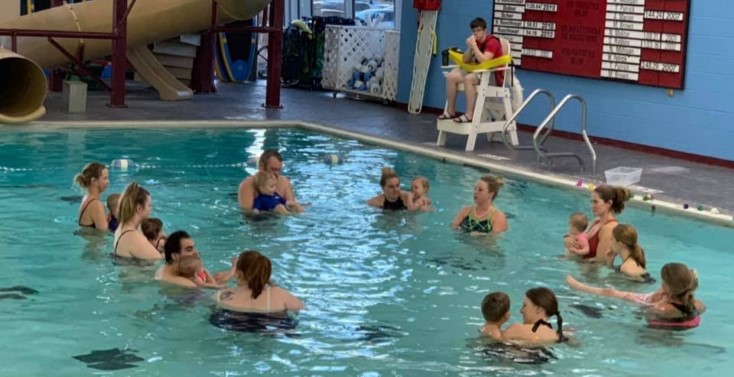 Download our policy on SWIM BANDING.
For questions regarding aquatics programming, contact Sarah Kowalski for more information.
SWIM LESSONS
PARENT-TOT SWIM LESSONS
We offer two different parent/tot classes. One session for children ages 6 months to 3 years or a second session for children ages 3 to 4 years. Children enrolled in parent/tot need to wear a swim diaper unless potty trained. Classes are designed to allow the child to have fun in the water, while the parent guides him or her to learn aquatic skills. The child will be exposed to kicking, floating, basic arm strokes and breath control through play and songs. An adult must accompany the child in the water.
SWIM LESSONS (5 to 12 yrs old)
Swim Lesson Levels
Level 1 Children learn how to blow bubbles, floating, and gliding; along with basic water adjustment skills.

Level 2 This class concentrates on freestyle with rhythmic breathing; along with front and back floats, elementary backstroke, and building basic water skills.

Level 3 Along with the above skills, this class teaches breaststroke , treading water, butterfly kick, and continues basic skill development.

Level 4 This class puts an emphasis on building endurance. Butterfly and basic swim team skills are introduced, as well as continued development of free and backstroke.
PRIVATE SWIM LESSONS
Private swim lessons allow the participant to work at a personalized level to achieve swim goals.
Lessons are purchased as ONE SESSION or THREE SESSION or SIX SESSION packages. Each session is 30 minutes long.
PRIVATE LESSONS (ONE ON ONE):
ONE SESSION / THREE SESSIONS / SIX SESSIONS

For Members – $25 Member / $60 Member / $108 Member

Community – $50 Community / $85 Community / $133 Community
SEMI-PRIVATE LESSONS (GROUP OF TWO OR THREE):
ONE SESSION/ THREE SESSIONS/ SIX SESSIONS

For Members – $30 Member / $75 Member / $138 Member

Community – $55 Community / $100 Community / $163 Community

*cost is for total group, not per person
ADAPTIVE AQUATICS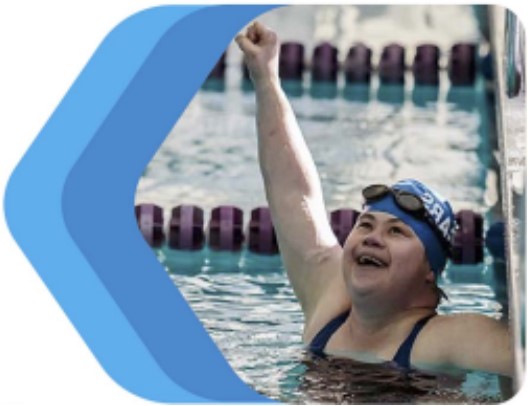 These lessons will be geared towards students with neurological, developmental and cognitive challenges. Our goal is to not only help these students learn how to be safe in the water, but also build strength and increase their cardio- vascular endurance, as well as give them continued opportunities for social interaction.
Financial assistance is available through a grant provided by Huntington HELP.
Any member of our staff will be happy to assist you in this process.
4 weeks / Lessons are scheduled around the swimmers availability.
Members: $30 Community: $55
ADULT SWIM LESSONS
These lessons offer one-on-one instruction with a YMCA swim instructor, who is selected based on the participant's specific needs. The sessions may also be structured to meet other needs including:
• Senior Focus

• Adult "Aquaphobia"

• Adult Adaptive Aquatics

• Semi-Private (siblings, family, friends, etc.)
Private swim lessons are available by appointment only. Swimmers can meet with the YMCA swim instructor as many or as few times a week as needed. Lessons are scheduled individually based on the participants schedule. They can be held any day of the week and any time there is available space in the pool.
Please allow 1-3 business days in order for our staff to pair you with the appropriate instructor and up to one week before your lesson begins.
Register at the front desk or contact Sarah Kowalski for more information