KIM League Basketball
We offer Kim League Basketball for Pre-K, Kindergarten/1st, 2nd/3rd grade, 4th grade, 5th grade, and Middle schoolers. We have competitive and fundamental teams.
In the Spring and Fall, look for Kim League Academy. These are skills clinics held once per week for 6 weeks for 2nd through 5th graders. These are skill building sessions designed for beginner and intermediate players but open to all skill levels. See below for the Fall KIM League Basketball. (Additional age divisions will be offered after Christmas break with registration opening in November.)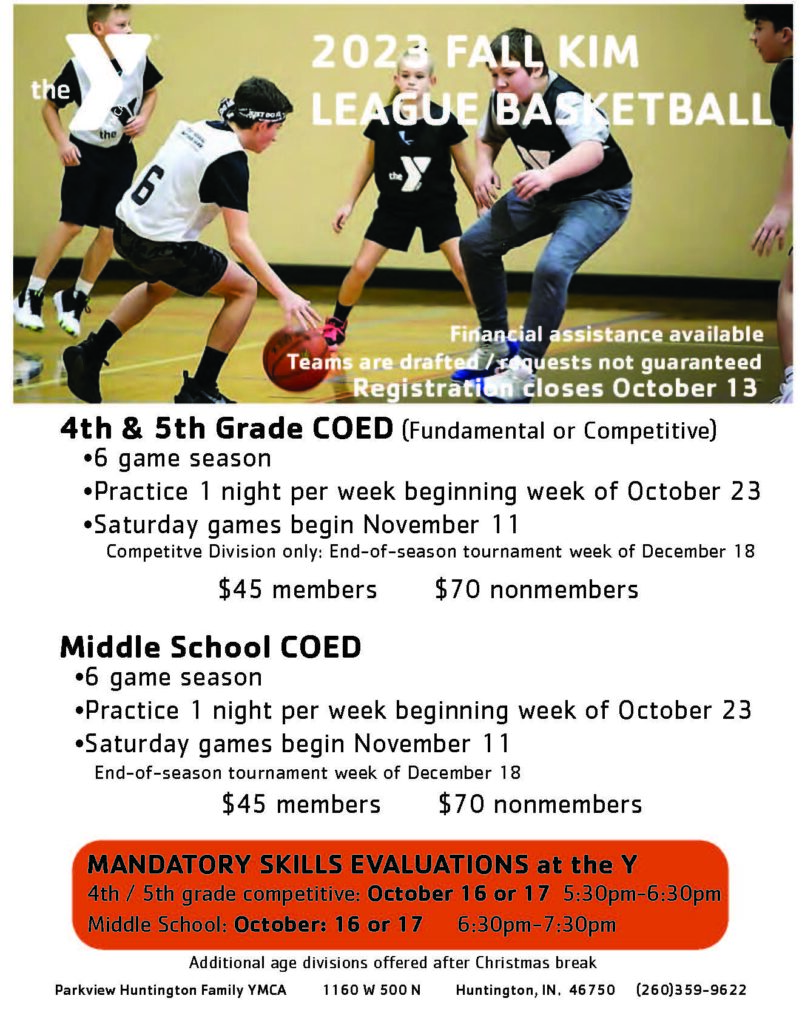 Check out the game schedules at Ygametime.com.
Ygametime.com is where you can find game schedules, Coach information, and rules for each league. Please use this resource as a tool to help keep you informed.
***If you qualify for FREE or Reduced lunches, you may qualify for financial assistance for Kim League. Please ask the front desk or check our website for information about how we can help. Our goal is to make sure every child that wants to play will have that opportunity.
Click HERE to obtain a "voucher" to save $10 on your registration fee.
Please review our YMCA rules of play.


KIM League Basketball & Cheerleading. Now in our 58th year in 2022-23!
KIM League Basketball is in its 58th year of developing young boys and girls into better players and even better people. With the help of over 100 volunteers and workers, KIM League Basketball now includes nearly 500 kids and almost 60 teams.
A Brief History
KIM League Basketball originally was started by Ez Williams, a lifelong basketball fan, as the Y Midget League. A basketball league for boys in the 4th – 6th grades. Here is a little of the "rest of the story".

Ez and Laberta Williams

One year, after returning home from the Huntington Basketball Sectional, and watching Huntington High School lose to one of the "County" teams, Ez decided something needed to be done to get Huntington High back to winning Sectionals. His plan was to start a boys basketball league in town. An organized, competitive league where boys would learn the basics of the game and develop their skill set. He found a willing partner in the Y and began the Midget League basketball program in 1958.
During the 1963-64 Midget League season, a young boy named Kim Howenstine collapsed while playing in a game at the Y. Kim died a few months later of brain cancer. His impact on the Midget League and more specifically, on Ez Williams, became evident when it was proposed the league be renamed "KIM League". For the 1964-65 season and from then on, the Y's basketball program has been called the KIM League. KIM League basketball has been instrumental in encouraging players to work hard and dedicate themselves to being better players and even better teammates.
One man's beautiful vision of kids learning, growing, and improving together has become an iconic sports program for our Community.
Thanks Ez.