Champions League Sports = sports for children with disability
The Champions League is a Sports program for children with disabilities. It was initially formed in 2003 with the assistance of several parents of kids with disability. In particular, Peggy Snyder and Sally (Grimes) Keyser helped reach out to the families of those athletes and encourage them to play in the Champions League. In our very first year, we had 25 kids participate!
We play Baseball in the Spring and Summer and Flag Football in the late Summer and early Fall. All of our games are played in the Y Gymnasium since many children with disability cannot handle the weather outdoors or may struggle with their wheelchair or walker in the grass, but find our smooth gym floor quite nice to use.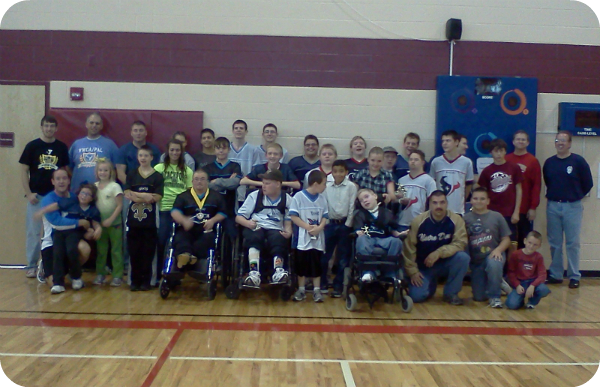 We feel so blessed to play along side kids in sports that we all know and love. Most of our players thought they would never have the chance to play a game that so many of us grew up loving.
To make the games more enjoyable, we eliminated many of the rules that some of our players would not understand. For example, in baseball, every player hits and every player scores…..every inning. No outs are recorded. Each of the players has a volunteer to help them play their position (if help is needed) and keep them safe during a game. All told, we have been supported by such a Community-wide group of volunteers that each of our players always has help if needed. When we have too many volunteers, they just have a seat with the rest of the fans and cheer on the players.
Our next Baseball Season begins in the Spring. Make a point to stop out and support these fantastic athletes.